Despite snow, Aspin employees plough through workshop preparations
Despite the snow we're busy at Aspin preparing for our first B2B eCommerce workshop – taking place on Tuesday March 06, in Oxford.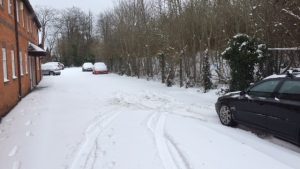 The 40 attendees are from a range of business sectors including FMCG, garden, giftware, greeting cards, and health and beauty, with a common interest in making more sales.
Throughout the day, the Aspin team will be covering a broad range of online trading topics, which we will be discussing in an 'open forum' format.
We'll also be running through some of the new strategies that distributors are employing to achieve both value for their customers and increased order frequency for their business.
A key aim of the event is to identify and share 'best practice' – so attendees can share ideas across multiple sectors.
Further workshops are planned over the coming months, which will allow a broad cross-section of customers and prospects to get involved – including those who don't currently have trade ordering portals.
Our next workshop is on April 24, at the Radisson Blu hotel in Derby. You can secure your place for this event here. If you are unable to make this date, please email John King (johnk@aspin.co.uk), and we'll add you to our waiting list for the next date.
For further details – please visit the workshop page here.