Paul Murray Healthcare and Bigjigs Toys launch PixSell for 2018
Orders back to head office for same day dispatch thanks to robust integration, accurate trading pricing and digital catalogues –  these are just some advantages seen by our new PixSell users at Spring Fair this month. We visited each stand to find out exactly how PixSell was enhancing their exhibition status'.
Paul Murray Healthcare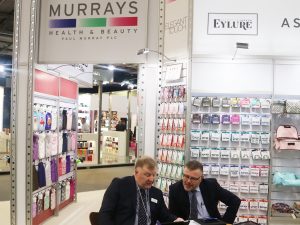 Health and beauty wholesalers Paul Murray launched PixSell at the start of 2018, with Spring Fair their first major show with the app in place. The business felt they had succeeded their previous order taking system, and the arrival of PixSell has resulted in a quicker and more productive way of selling for their team. Hurrah for happy sales reps.
Sales Director Nick Hayton is pleased with the impact PixSell has made at the show. "Since going live with the system at the start of the year, all of our reps are on board and delighted with PixSell. All of our [3,800] SKUs are listed on the iPad, giving our guys easy access to any product. They also have sales history, and the information on product collections allows them to present items a lot easier."
"During Spring Fair we have been sending orders back to head office twice a day, ensuring that product delivery times are as quick as possible. Orders which are captured in the morning will be with the customer the next day, whilst orders captured in the afternoon will be delivered the following day. It doesn't get more efficient than that."
"Our entire selling process is now electronic which has eliminated all mistakes. We are trying to eliminate human intervention as much as possible as that's how errors and delays occur! So far, PixSell is working very well for us."
Bigjigs Toys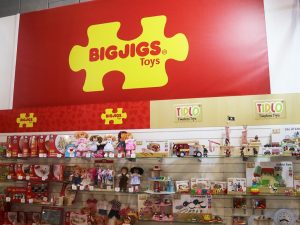 Toy distributors Bigjigs first launched PixSell for use at Toy Fair 2018. Now well-versed with the system, both management and the sales team are pleased with the impact the app is having with taking trade show orders.
"PixSell is making our lives much easier so far and we have no complaints," National Sales Manager Carol Bradshaw told us. "Visually, the iPad looks great and the amount of information which we have access to is fantastic. Spring Fair always gives us an opportunity to spend time with our customers and present our newly released products – we are finding it a lot easier to do this with PixSell."  
"We are very pleased with how PixSell is working for us so far and we are excited to see how much further we can go in terms of development and presentation within the app. The system is leaps and bounds ahead of any sales tool we have used previously."
Container Group Buying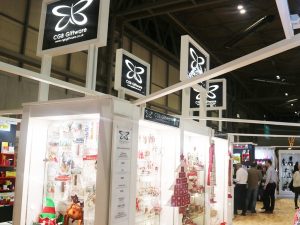 This time last year – at Spring Fair 2017 – the sales team at Container Group Buying were busy transcribing their handwritten show orders ready to then send back to head office for processing and fulfillment by the admin team. Fast forward 12 months, and iPad ordering with PixSell is ensuring that everyone's job is made much easier at the show.
"PixSell has completely changed the way we operate, and take orders", Director Niall Marks told us. "Since launching the system at the end of last year, we now have seven UK users on the road and at shows, along with three reps covering Europe." 
"As well as the speed in which we are taking orders, PixSell has become a great visual tool for us. When first designing our presentation screen, we worked with our design team to ensure that the app is aligned with our company branding. We have also included introductory videos, PDFs and trade show notes so that all our reps have everything they need to take large orders. At Spring Fair, we have been sending orders at the end of each day with no issues. This also means that more time is available each morning – without having to write each order by hand."
"PixSell is giving our sales team more time to spend with the customer showing our products and collections without having to flick through large order sheets."
Bookspeed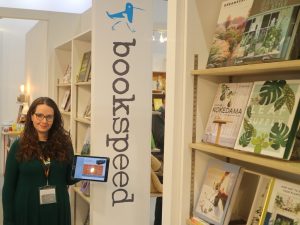 Book wholesalers Bookspeed are also new to iPad ordering – first launching PixSell to be used at trade shows at the start of 2018. We spoke to National Sales Manager Dean Rougvie to see how things were going.
"So far we are seeing multiple benefits since going live with PixSell", Dean said. "Our ability to present when selling to customers has vastly improved in the last 12 months. We are able to spend a lot more time with customers discussing lines on the stand with the iPad, rather than resorting to spreadsheets and lists. As Bookspeed's Sales Manager, I have access to all of the orders and individual rep reports which I can go through with each member of our sales team – promoting a healthy competition during the show." 
"At previous trade shows, all of our sales team would spend up to three days transcribing, then sending back our orders to be processed – this is now done instantly at the end of the show – it's amazing how much time we are now saving."
"The next stage for us is to improve our reporting and analytics so we can see more information and stats about buying trends and best sellers. This will allow us to instantly refer to items on our stand with information taken from the iPad – speeding up the process even more."
If you like the sound of what Paul Murray, Bigjigs, CGB and Bookspeed are achieving, contact us on 01794 500 200 or on info@aspin.co.uk.